But first, let me do my make-up.
In ultima perioada, m-am indragostit de machiajele naturale si soft.In articolul de azi, vreau sa va prezint produsele mele preferate, pe care le folosesc in prezent, cu ajutorul carora imi realizez machiajul zilnic. Sunt exact ce am nevoie pentru un look fresh, fara sa-mi simt tenul incarcat prea mult .
Fondul de ten
Pentru clientele mele, folosesc un fond de ten cu acoperire medie spre mare, cu aspect mat, de cele mai multe ori. Insa pentru uzul personal, imi place sa aleg produse mai usoare pentru ten, cu acoperire medie. In prezent, fondul meu de ten preferat este L'oreal Paris-True Match. Are acoperire buna si imi rezista foarte bine pe ten. Daca vreau sa aiba un aspect mai mat, adaug putin Double Wear de la Estee Lauder.
Concealer
Dupa aplicarea fondului de ten, folosesc putin concealer pe linia ceracanelelor. Sunt zile in care nu este necesar sa-l folosesc, insa imi place sa am luminozitate sub ochi si atunci adaug 2-3 picaturi, pe care le blenduiesc cu o pensula speciala. Fie vorba intre noi, mi se pare ca fara el arat de parca inca dorm:)). In prezent folosesc Concealer de la Estee Double wear, MAC, si Maybelline. Toate trei mi se par foarte bune.
Just be your unique beautiful self.
Contur & Iluminator
Am sarit peste partea cu fixarea fondului de ten, pentru ca nu-mi place sa-mi incarc tenul, mai ales ca am un ten normal, care nu necesita neaparat pudra. Asa ca dupa ce aplic fondul de ten, folosesc un fard de obraz de la Melkior, in nuanta Caramel sau Coffee depinde de sezon. Tips & tricks: aplic acest produs si pe pleoapa mobila, pentru a fixa fondul de ten, dar si pentru conturarea si evidentierea ochilor.
La categoria iluminatoare… hmm, pot sa zic ca depinde de zi sau de mood, cat de glowy vreau sa fie tenul meu. Am zile in care folosesc iluminator lichid, pe care il aplic cu degetul sau zile in care combin mai multe nuante din paletele de la Anastasia BH.
Life experience brings out different emotions and different perspectives on things. I just want to be constantly evolving.
Conturarea sprancenelor
Sprancene naturale aveti? Daca da, o pereche, va rog.
Ador sa-mi conturez sprancenele natural, doar sa-mi adaug cateva fire acolo unde este necesar, in nuanta potrivita mie.
De aproximativ trei ani folosesc produsele de la Anastasia BH, in special gelul de sprancene, Pomade Dipbrow. Nuantele pe care eu le folosesc sunt Blonde, Soft Brown si Caramel, aplicate cu pensula Duo 7b, tot de la ABH.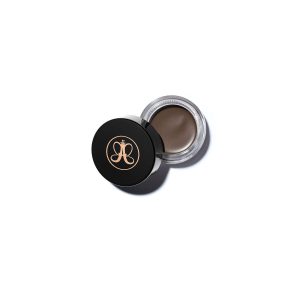 ---
I believe all women are pretty
without make-up

– but the right make-up can be pretty powerful.
---
Lips
La capitolul buze, aleg nuantele de nude, maro nude mai exact. Imi plac cele de la Mac, Nyx dar si L'oreal. Aleg sa-mi conturez buzele cu un creion de la Mac in nuanta Stripdown.
Toate produsele pe care le folosesc, le gasiti in shop. Hope you like it. Love!
Photo
Photography
Pictures
Relationships
Social Media
Sports
Tips
Women
Writing