Beauty has so many forms, and I think the most beautiful thing is confidence and loving yourself.
Vad din ce in ce mai des intrebari legate de produsele de care ai nevoie la inceput de drum ca si make-up artist. Acest lucru poate sa difere de la un stil la altul, insa majoritatea make-up artistilor se bazeaza pe aceleasi principii.
In "lumea machiajelor" gasesti zeci sau chiar sute de branduri. Din punctul meu de vedere, fiecare brand are cate un produs bun, nu conteaza daca  vorbim  despre  branduri  profesionale sau de tip drug store. Am pregatit o mica lista cu produsele pe care eu consider ca este necesar sa le ai la inceput de drum. Eu va propun sa va achizitonati inca de la inceput produse de buna calitate, pentru a obtine rezultate cat mai bune si pentru a avea cliente multumite. Clientele  se vor intoarce cu siguranta la voi, daca nu vor intampina probleme cu machiajul pe intreaga durata a evenimentului.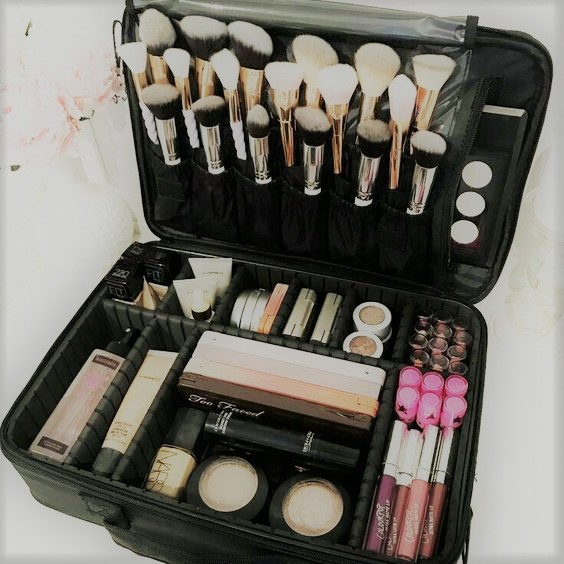 1 Baza de pleoape – asigura-te ca achizitionezi o baza care sa nu-i permita fardului sa se stranga in pliul pleoapei.

2 Primer –

 fiecare tip de ten necesita un primer special, fie cu efect de matifiere pentru tenul gras, fie hidratant pentru tenul uscat.

3 Fond de ten – la inceput de drum este greu sa achitionezi toate nuantele de fond de ten necesare, insa poti alege 2-3 branduri, pe care le poti combina intre ele. Iti recomand sa minimum 4 fonduri de ten, in nuante diferite.
Wake-up beauty. It's time to beast.
4 Farduri pentru pleoape –

Eu aleg sa lucrez cu cateva branduri, care pana acum nu m-au dezamagit deloc. Cel mai des folosesc fardurile de la MAC, desi au un pret mai mare decat restul, au cateva nuante pe care le folosesc la toate machiajele. De asemenea folosesc Melkior, Inglot, Huda Beauty si Anastasia Beverly Hills.

5 Pensule –

 70% dintr-un machiaj bine realizat, din punctul meu de vedere, este reprezentat de pensulele folosite. Nu este necesar sa-ti achizitionezi un set doar de la un singur brand, poti sa-ti faci singura setul. Eu folosesc pensula de fond de ten de la MAC si de conturing de la Cupio de exemplu. Gasesti pensule bune si la preturi accesibile. Am pensule de la MAC, Ikko Romania, Anastasia BH, Cupio, Zoeva, etc.

6 Pudra pentru ten –

 Pentru a fixa fondul de ten ai nevoie de o pudra care sa nu dea aspectul de masca. Alege o pudra buna pentru fiecare tip de ten. Daca alegi o pudra compacta, care sa aiba culoare, incearca sa-ti achizitionezi macar 2 nuante. Eu folosesc pentru tenul gras, pudra Studio fix de la MAC, iar pentru tenul uscat, Laura Mercier.

7 Gene false –

 Nu poti obtine un machiaj profesional fara gene false. Alege genele cu banda usoara, care sa nu le incomodeze pe clientele tale.

8 Mascara –

 Ai nevoie de o mascara buna, pentru a contura genele inainte sau dupa ce le aplici pe cele false. Eu folosesc Essence. Imi place la nebunie.

9 Iluminator & Conturing – Partea preferata a fetelor, in general. Alege un fard pentru conturing care sa nu iti pateze tenul. Eu folosesc Melkior si MAC. Anastasia BH este in topul preferintelor mele cand vine vorba de iluminator. Mi-am achizitionat toate paletele, iar raportul calitate/pret este super. Le gasesti acum si in magazinele Sephora, dar si online.

10 Produse pentru sprancene –

 Fie ca alegi un gel sau fard, cel mai important este sa lucrezi usor cu acel produs. Eu folosesc gelul de la Anastasia BH, Dipbrow Pomade.

11 Rujuri –

Este necesar sa investesti in rujuri care sa reziste. Alege cateva nuante calde, nude, dar si doua-trei nuante de rosu. Poti opta chiar si pentru un gloss.

Nu te speria daca la inceput nu ai bugetul necesar. Prin munca si pasiune vei reusi sa iti faci beauty case-ul necesar.
Beauty
Mac
Machiaj
make up
Make-upartist
Products
Produs de make-up
Produse
Produse la inceput de drum